The Instituto Mixto Universitario de Tecnología Química CSIC-UPV is a world leader in catalysis research, with particular expertise in application domains such as synthesis of micro and mesoporous materials for heterogeneous catalysis, petrochemistry, renewable energy into chemicals, nanostructured catalysts for solar fuel production, and hybrid materials with optoelectronic properties. Due to its excellent fundamental and oriented research level and to its multidisciplinary character, the ITQ has the possibility to develop research in different disciplines having an extraordinary flexibility and capability to adapt itself to new research challenges.
The ITQ has specialized personnel as well as forefront facilities for research development in the field of chemical technology and materials. It has more than two hundred researchers from all over the World including CSIC and UPV research professors, tenured scientists, invited professors but also engineers, technicians, administrative staff and finally many post- and pre-doctoral students.
ITQ also offers an appropriate environment for the formation of technician and scientists through doctoral theses, masters in science, final year projects, and postdoctoral stays, both in the fields of basic and applied research.
The research at ITQ is carried out through Regional, National and European funded grants and also through some projects funded by own resources. Besides, ITQ obtains a substantial part of its funding from R&D agreements with multinational companies from all around the World. Finally, it is to be mentioned that part of the revenues of ITQ come from royalties of licensed technologies developed at the institute.
Prof. Hermenegildo Garcia is full Professor at the Instituto de Tecnología Química (ITQ) of the Technical University of Valencia (UPV) and Honorary Adjunct Professor at the Center of Excellence in Advanced Materials Research of King Abdullaziz University. Prof. Garcia has been active in the field of heterogeneous catalysis working with porous catalysts and NPs, as well as in the photocatalytic production of solar fuels. Prof. Garcia is doctor Honoris Causa from the University of Bucharest and the recipient of the 2011 Janssen-Cilag award given by the Spanish Royal Society of Chemistry and the 2016 Jaume I prize for Novel Technologies.
Prof. García leads a multidisciplinary group at ITQ focused on heterogeneous catalysis and solar photochemistry, with a proven track record in synthesis and testing of materials, such as mesoporous periodic organosilicates, carbon nanotubes, diamond nanoparticles, metal organic frameworks and graphenic materials. In recent years, the group has been focused on renewable energy, CO2 valorization and green chemistry.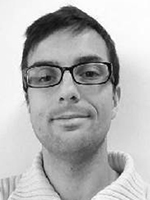 Dr Josep Albero obtained the Chemical Engineering degree from the Jaume I University of Castellon (Spain) in 2005. Later he obtained his M.Sc. degree from Rovira I Virgili University in 2009. He worked in the synthesis and characterization of nanocrystalline semiconductor quantum dots for photovoltaic applications when received his PhD in the group of E. Palomares at ICIQ. Afterwards he joined Prof. Garcia group in ITQ as postdoctoral fellow. His research interest is the photo-induced charge transfer reactions in nanostructured materials and their applications in renewable energies and solar fuels production. In the last years, he has actively worked in the design, preparation and characterization of hybrid organic-inorganic materials for the photocatalytic production of solar fuels. His main expertise area is the synthesis of nanostructured photocatalysts and their photophysical and photo-electrochemical characterization.